Just recently, Ballet Philippines, in partnership with the ABS-CBN Philharmonic Orchestra and numerous OPM icons, showcased their collective talents in their recent musical tribute to VST & Co. through the musical, "Awiting Mo At Isasayaw Ko."
It told the love story of Victor and Teresa as they reminisce the good old days, when they were still physically able. As they both recall all the events that happened in their story, Victor remembers his wealthy rival to Teresa's heart, Gabby. And though ultimately, Teresa had chosen Victor, their love story is filled to the brim with colorful and dramatic situations, perhaps brought on by nostalgia. However, not everything is giddy and romantic: while the whole world was partying hard during the swinging 70's and 80's, the Philippines was doing the same, although with a lot more bullets and military personnel involved. The gleeful and cheery nature of disco music in the Philippines was juxtaposed with the atrocities of Martial Law, which is when much of the story takes place in.
Teresa and Victor, played by Denise Parungao and Garry Corpuz. Image from theaterfansmanila.com
All of these were brought to life by the star-studded cast: Cooky Chua had provided much of the vocals, backed by the ABS-CBN Philharmonic Orchestra, under the conduction of award-winning musical director Gerard Salonga. The cast also included other notable musical talents, with the likes of Sandino Martin, Jef Flores, and Noel Comia Jr. as the primary actors, and Karylle, Michael Pangilinan, Markki Stroem, and Kyle Echarri as their alternates. Of course, the show blended not only theater, but dance as well, and the entire artistic direction of the musical was headed by Paul Alexander Morales of Ballet Philippines, lending some of their talents, including Edna Vida and Nonoy Froilan as the elderly Teresa and Victor, as well as other iconic dancers in ballet including Denise Parungao, Garry Corpuz, Rita Angela Winder, and Jean Marc Cordero.
The musical was nothing short of terrific, especially for people who grew up listening to the music and stylistics of VST & Co. Taking a trip down memory lane never felt this grand and exciting!
Can You Feel It? You Were Just Infected With Disco Fever!
VST & Co. was the group that pioneered what we now refer to as Manila Sound. Established in 1976, the group was original composed of Vic Sotto, Spanky Rigor, and Tito Sotto and had quickly soared up the Philippine music charts through their hits "Magsayawan," "Ipagpatawad Mo," "Disco Fever," and of course, "Awitin Mo, Isasayaw Ko." Though the group was eventually overtaken by other Manila Sound bands, they are endearingly regarded as the group that pioneered the iconic sound of Manila, and had paved the way for the popularity of OPM.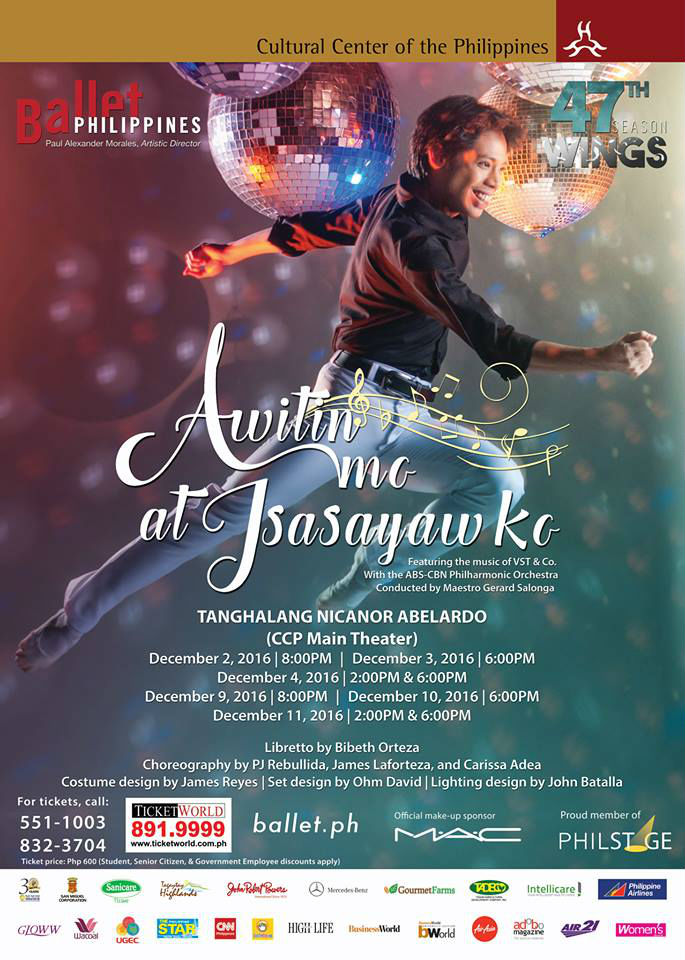 "Awitin Mo At Isasayaw Ko" was staged at the CCP Main Theater (Tanghalang Nicanor Abelardo) and ran from Dec. 2 – 8 pm; Dec. 3 – 6 pm; Dec. 4 – 2 pm and 6 pm; Dec. 9 – 8 pm; Dec. 10 – 2 pm and 6 pm; Dec. 11 – 2 pm and 6 pm.
Were you able to watch ABS-CBN and Ballet Philippines' newest masterpiece? Tell us your thoughts down in the comments below!
Rafael Reynante
A purveyor of fine coffee, menswear, and life experiences. Raf is an ex-musician himself, and started with heavy metal, but now currently listens to K-Pop, Future Funk, and Vaporwave. There are few things he doesn't listen to, so feel free to message him your song and artist suggestions.
Other posts by Rafael Reynante